What's On At Hatherleigh Community Centre 2019
Saturday 21st September
Mad Dog Mcrea (Hath Carnival Event)
Saturday 5th October
Wine & Wisdom Quiz
Saturday 7th December
Total Who Show (Who Tribute Band)
Saturday 21st December
Hatherleigh Silver Band Xmas Concert
Hatherleigh Carnival Bingo
Saturday 30th November 7.15.pm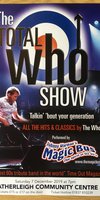 The Total Who Show
TICKETS - CLICK POSTER
Saturday 7th December 7 pm
Catch the Total Who Show by Johnny Warman's Magic Bus – featuring musicians who have performed with Roger Daltrey, Pete Townshend, and John Entwistle from the band itself.
Johnny Warman's Magic Bus pay tribute to The Who in their own unique way, capturing the band's pure adrenaline rush and adding their individual flair to the songs.
MAXIMUM ENTERTAINMENT!
Won't Get Fooled Again, My Generation, The Seeker, Can't Explain, Baba O'Riley, Pinball Wizard, Who Are You? 5.15… and many more.
And all performed by top musicians who have worked with The Who, David Bowie, Bruce Springsteen, Foo Fighters and The Small Faces.
"Well worth checking these guys out. Not to be missed." The Who
How many bands can claim to have not one, but two rock stars in their ranks? But the Total Who Show has just that in front man, Johnny Warman, and guitarist, Gary Grainger.